Morning on the 17th August was nice and sunny.
14 sailing cruisers lined-up for sail down the Thames river to Queenborough. At around 10'clock we have moved on. An interesting view of such fleet going down the river. On the picture below – me, Roger and Galion 22 ready to go.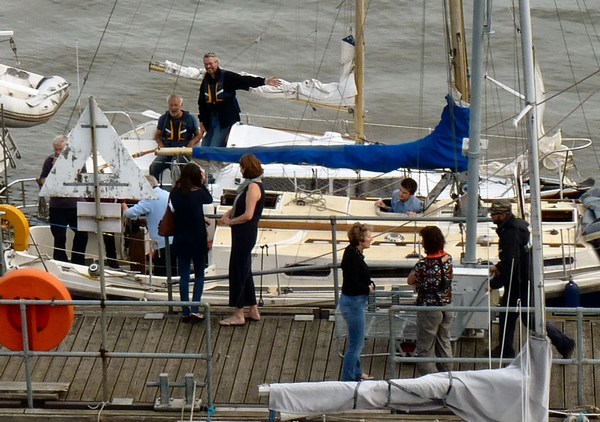 Initially, little breeze but by the Tilbury docks it was a very different environment. Wind picked-up, clouds thickened and waves raised. When we got to the Estuary it was gusting up to 32 kts! We all reefed sails but conditions were already hard. With lots of splash and rain by the time we arrived to Queenborough there was not a single dry thing on us. Simply none of us expected weather to deteriorate so quickly. We knew about strong winds later in the evening and we should be in our destination well before that but weather changed with us being not prepared at all. But I have to admit that our Galion performed very well showing its full seaworthiness.
One of our fleet have gone into bigger trouble by loosing their sail and propulsion and they had to be towed by RNLI. Big THANK YOU guys!
All-in-all it was a good lesson and no life was lost or boat damaged. The first day was completed with a nice meal and lots of conversations in the QYC. Shortly after 22:00 we all were deeply asleep in our bunks. It was an exhausting day.
…tbc